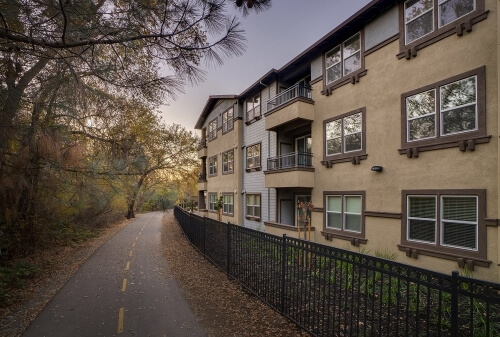 Rodger and Jim were HART of Folsom's very first mentees. They are an inspiring and heartwarming success story and we are so proud of them! They're a model for what is possible when we all commit to a common goal.
Their journey in and out of homelessness began in 2013, when their father was diagnosed with colon cancer. They had all lived together in the family home since losing their mother in 1997. After a revolving door of hospital stays, Dad was eventually put on hospice when insurance would no longer cover his medical costs. Both men cared for their dad at the family home throughout his illness and a stressful time was compounded when Rodger lost his job.
When their dad passed away, they had to frantically fix up the home and put it on the market since they could not pay the high mortgage. Rodger and Jim faced life-changing decisions just as their world had come crashing down and when they had not yet grieved their father's passing. They felt great pressure to hastily sign a lease on an apartment, which they later learned they could neither afford nor get out of. Nearly everything the family owned – photos, memories and possessions – was lost in this downsizing.
During this time, Rodger was looking for a job – with no success. Several medical issues started cropping up and since they had no medical insurance, funds were eventually drained. The men ran out of money in September 2016 and moved into their car, but in a matter of weeks found they couldn't afford it either. They sold it to the first buyer and the streets of Folsom became their home.
Rodger and Jim were partnered for a mentoring program through HART of Folsom in January 2017. Their cheerful attitudes and amazing sense of humor made them a joy to be around and to navigate the path forward. We met a couple times a week, discussing medical concerns, employment, survival and general life skills of being on the streets. Sometimes we shared a home-cooked meal or picnic, sometimes just hung out together. We also had some group meetings and several folks pitched in to help with transport to appointments. HART faith communities and individuals even donated funds for a hotel after one of them had surgery.
In fall of 2017, both Jim and Rodger landed jobs at a major Folsom retailer! The work and hours were physically demanding, yet they stuck with it month after month! But… they continued to live out in the parkways of Folsom and daily walk to their jobs – in the rain, in the frost, in the heat. Could most of us do that? Could you? I know I couldn't.
In April 2018 the long-awaited goal arrived! HART of Folsom assisted Rodger and Jim in renting a centrally located and affordable apartment. They will be moving in in May and truly starting their new lives as fully contributing members of our community! Yay!
My experience as their mentor was one of the most important journeys of my life. It helped me understand firsthand the immeasurable challenges the homeless must face and also how the deck is stacked against people in their situation. When you are struggling to survive and stay safe each night – sometimes in extremely inclement weather around people you may not trust – and you are unsure where your next meal may come from, you have little bandwidth for anything else. Survival is your focus and long-term planning is incomprehensible. Minor inconveniences for you and I become unrelenting obstacles for the homeless. Hopelessness and resignation have a way of creeping in to the dark corners.
Each one of us is a few bad decisions or a little bad luck away from being a Rodger or Jim. Circumstances and choices combine to rock people out of their stable lives in ways most of us can't imagine. It's disruptive, lonely and isolating.
The HART mentorship is a deep partnership where we, as mentors, walk hand in hand with men and women who are reaching for a tether back to normalcy. We become resources, confidants, counselors, coaches and cheerleaders. Most important – we become faithful friends. The path forward is different for everyone; we push when needed, but respect that the steps must be at their pace, not ours. We are always there for them – and as our homeless friends begin to trust that, they can also better trust themselves in finding their path to a new future.
Rodger and Jim are now living in an apartment on their own and are fully contributing members of the Folsom community. We are so joyous for and proud of them! All of us "win" as a result. And I can unequivocally say, we gained far more from this journey than they did.
We encourage you to become a mentor or support HART in making a difference. It will make a difference in their lives – and in yours.